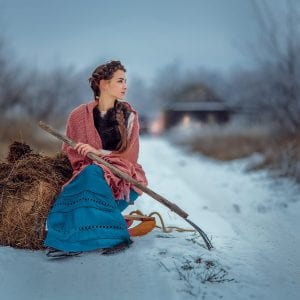 1. Tell us a bit about the image
My cousin visited me, she knows that I love to dream and to do an unusual photo shoot. And she asked me to come up with a way for her. We were lucky and that day the street was very nice.All the trees were covered with the hoar-frost. And I decided that we must act!
2. What inspired you to take the shot?
I had a wooden sled and at first I wanted the girl to collect firewood for a fire. but in the forest it was cold and we did not find suitable branches. Then at the farm we asked for some hay and a pitchfork. So one idea turned out to be something completely different.
3. What gear did you use for the shot including lighting?
I use only natural light, no reflectors. The light was diffused and softCamera Canon 6D + 135mm F2 L . ISO 100 F2 1\1250
4. Tell us about the editing process?
I open the RAW file in Lightroom , correct the white balance, reduce the contrast, and after that i open the image in photoshop . I copy of the layer and chang it into a blending mode of soft light and make the shadow not so black.
5. How does this piece reflect you as an artist 
I am inspired by historical novels and fantasy and movies on these topics. My life is boring, and photography is my way to create a fairy tale
Follow Olga on
Instagram:
@moskaltsova_olga
Facebook:
 https://www.facebook.com/MoskaltsovaOlga/
Read More