Featured Photographer – Sean Hepburn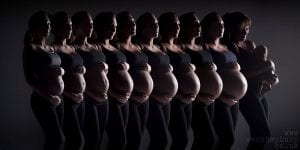 Q1. Tell us a bit about the image
The image was taken from month 3 through to full terms, stating in early March, with the final image taken at the end of September. Lisa (Mum) is the daughter of my partner and Lisa has named the little boy, William.
Q2.What inspired you to take the shot?
I've never been fortunate enough to be blessed with children and always viewed a new birth as a miracle. The changes a woman's body go through are pretty extreme and interval images are the best way to really see what happens during the pregnancy.
Q3. What gear did you use for the shot including lighting?
The images were taken in the studio I run, Art Asylum Studio's in Weymouth, each shot was carefully measured out and setting were consistent for each image, we even measure the positions of light, subject and camera. I used a Nikon D810 with a Sigma EX Macro Lens for Nikon F – 105mm – F/2.8, lighting came from a 1.8m x 0.3m softbox on a single 750w Bowens Gemini Studio head. Settings were f/11 – ISO64 – 1/180th and the light set to mid power. The light was also flagged, to reduce flare into the camera.
Q4. Tell us about the editing process?
Each image was cut out on the right hand side, to allow the subsequent image to slide in behind, giving the effect of a row of people. The background light faded from right to left, so some work was required to blend the tones, where the images overlapped. This was done through a mix of blur, dodge/burn, masking off important areas.
Q5. How does this piece reflect you as an artist 
This work is quite typical of the sort of project I love to get involved, lots of planning, meticulous execution all brought together in editing. Images that seem impossible are always a draw to me, the goal being to make them look as if they were just captured that way.
https://www.facebook.com/seanhepburnphotography/
https://www.instagram.com/seanhepburnphotography/