Featured Photographer – Dana Flaherty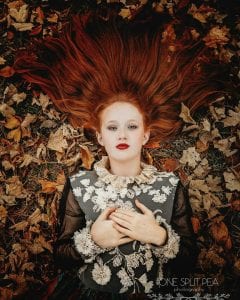 1. Tell us a bit about the image
This image was taken outdoors right before sunset. I had been given the dress to photograph from a dress designer. As soon as I saw the gown I had a vision of fall colors in mind. I selected my model and wanted a girl with red hair who would really make the image "Pop" .I wanted the look of the model and the image to look almost "gothic"
2. What inspired you to take the shot?
I wanted to shoot standing over her laying on the ground in order to obtain a different perspective. I didn't want the usual standing pose but rather something different where you are looking down at her when you look at the image. I feel as the viewer looking at this photograph you can't help but feel some kind of emotion or wonder from it. I was inspired by the model and the mood of the light which reflected on her face perfectly.
3. What gear did you use for the shot including lighting?
I used a Canon Mark III and a 35mm sigma art lens for this shot. All natural light.
4. Tell us about the editing process?
My editing process always starts with lightroom for minor adjustments such as WB/exposure etc. I tend to use the radial filter tool in LR which is how I achieve my dark vignettes in my images. Afterwards I take it into photoshop where I hand edit using curves and contrast followed by adjustment layers and color toning. I love dark rich colors.
5. How does this piece reflect you as an artist 
I have always been attracted to obscure things whether it was writing,music, art photographs.Anything avant-garde is what makes my soul sing