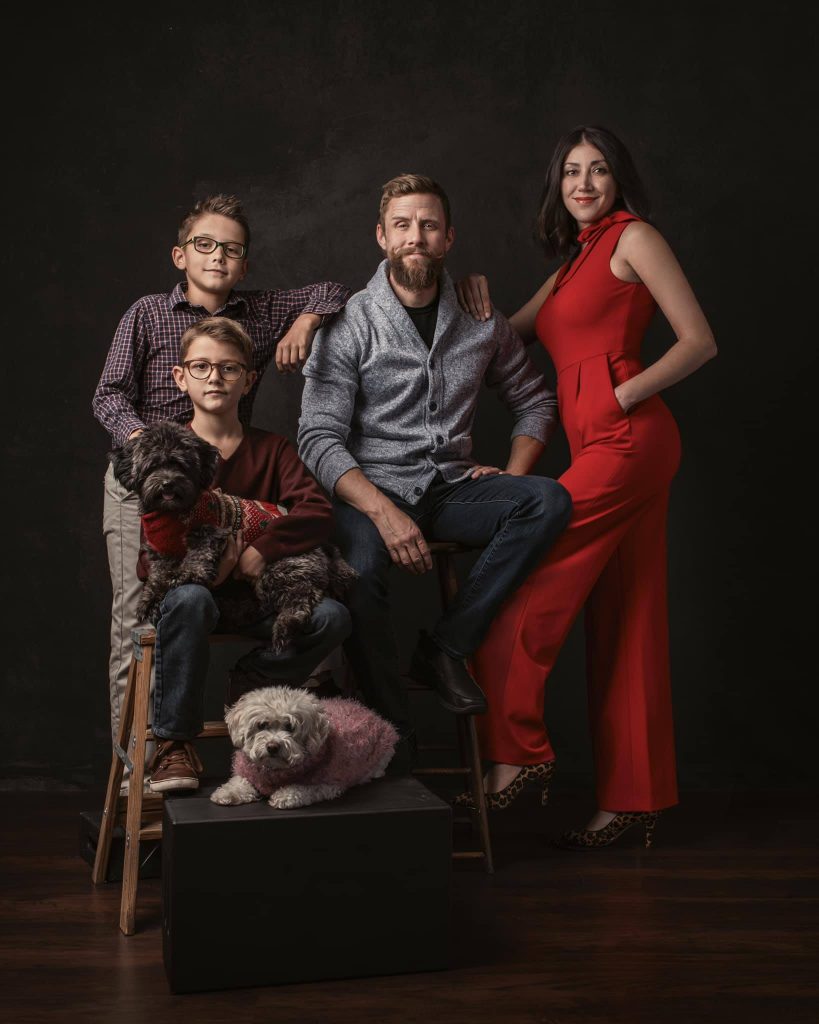 1. Tell us a bit about the image?
This is a family/self-portrait I set up this year. The issue was that I didn't have a remote, but we wanted both our dogs in the portrait, but of course, they didn't want to look at the camera. I decided to pose my family, push the shutter, run over get into position, but right before the timer went off, I threw something a small tin of fabric tape against the back wall, right behind the camera so that the dogs would look up towards the camera.
2. What inspired you to take the shot?
I'm a big fan of self-portraiture; it's helped me develop my style and to practice constantly. I put that same mentality into self-portraits with my family. Photographers can easily be so busy photographing others that we can neglect to photograph our family and being photographed with our family! Combine that with the fact that my wife insisted on our family portrait getting done on that day…and you have a recipe for creation. Ha!!

3. What gear did you use for the shot including lighting?
For this shot, I used a Nikon d750 with a 35mm lens. My light was an Elinchrom BRX250 with a Wescott 7 foot parabolic camera left but partially feathered into a white v-flat from V-Flat World. The large backdrop was painted by me. I also used a tether chord from Tether Tools into Capture 1 during the shoot. Oh, and I can't forget the tin of fabric tape, which was thrown against the wall to get the dogs to look.
4. Tell us about the editing process?
I did my own post work on this image. I took it into Lightroom where I have created my own presents, including some colour grading. I then take the image into Photoshop for some dodge and burn, curves adjustment, some cleanup, and backdrop extending, etc. I then dipped it into Alien Skin (X2) for a final touch.
5. How does this piece reflect you as an artist?
This piece reflects me as an artist first and foremost because it is of me and my family. I'm known for self-portraits, so it's very appropriate to have one of my whole family. I also feel that it is consistent with my style. I enjoy drama, shadows, etc. Creating heirloom images of ourselves and of the ones we love is what I encourage everyone to do, so it only makes sense that I live that out in my own life.
Instagram: Paparazzo_Film
https://www.instagram.com/paparazzo_film/
Facebook: Paparazzo Film
https://m.facebook.com/profile.php?id=120468438015868&ref=content_filter
Website: www. PaparazzoFilm.com
Read More