Dropping the Human Prop Mentality
What is the purpose of a model?  What exact role do we have in the scheme of a photoshoot?  The Merriam-Webster Dictionary defines a model as "one who is employed to display clothes or other merchandise," or "a person or thing that serves as a pattern for an artist." These are the definitions of commercial and portraiture modeling.  Is that all we are – a "pattern" or "display?"
I rather dislike this more literal perception of my career and passion.  Our job is to showcase the talents, products, and services of others.  We employ the art of showmanship daily.
Some may argue that the model is nothing more than a human prop.  The living mannequin selling the clothing.  The silent subject for the portrait photographer.  In some cases this type of modeling is appropriate, but have you ever considered what a photoshoot can become when the model takes a more active role?
One of my passions is closing the distance between the spotlight and the place behind the camera.  I firmly believe that successful photos are achieved when everyone works together – models included. Every strong team requires not only a leader, but participation from all members.  Group participation can affect the outcome of a photo just as much as a team's outcome in a tournament.  The more personal involvement, the better…particularly when it comes to art.

Model: Ashley BeLoat – IG: @ashleybeloat
Photographer: Dan Mahar – www.danielvmahar.com – IG: @dan_mahar
Co-Producer: Chanel Fernandez – IG: @chanel_fernandez_art
Hair & Makeup Artistry: Val Mancini – IG: @val.mancini
Custom Gown by Krustallos Couture  – www.krustalloscouture.com – IG: @krustalloscouture       
In what ways does it serve the photoshoot when the model takes a more active role?  The answer may vary depending on the type of shoot. However, the most universal result of greater talent involvement will often be a more genuine photo.  Guidance is important to lead the model in the direction of the desired vision but commanding too much runs the risk of making the model lose him/herself.  The result of this overdirection is frequently a lifeless photo.
From a photographer's perspective, involving your model from the very beginning can set the shoot up for success from the start.  Immediately you can ensure that the creative vision is meaningful to them and that a genuine emotion will be exuded on-set.  The fastest route to a lacking photo is by leaving your talent uninformed.  To achieve the desired look, your subject must understand the concept of the shoot.  To take this one step further you can ensure your talent is also passionate about it, greatly increasing your likelihood of exceptional shots.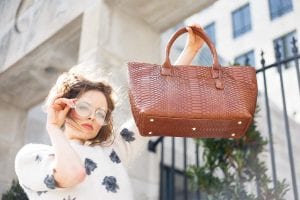 Model: Ashley BeLoat – IG: @ashleybeloat
Photographer: Kim Jefcoat – www.gracewithfire.com – IG: @gracewithfirephoto
Creative Director, Hair Styling, & Makeup Artistry by Anna Marie Christmas – www.sidtenterprises.com – IG: @anna_marie_christmas
Brown Python Handbag: Giovanna Barrios – www.giovannabarrios.com – IG: @giovanna.barrios
Lipstick: Inari Liquid Matte in "Deep Coral" by Viospa and Kha Kim Ross
A skillful model will be familiar with their own strengths and weaknesses.  This is crucial when bringing a portrait or ad campaign to life!  If they understand the desired effect of the photo, they can help take the final scene there. Work with them to decide how they can best present the product. Help them use their own voice as they tell the image's silent story.  Encourage your talent to let their strengths shine and be there to capture it on camera.
Allowing your talent to put their own personal twist on a pose can add immense unphotoshopped magic to the frame.  Any organic movement produces a genuine flair to the capture that is unmatched by any instructed laugh or smile.  Guide your model to a pose for one frame, then encourage them to move/shift as it feels natural to them.  You may be surprised at what you catch with your lens.
Model: Ashley BeLoat – IG: @ashleybeloat
Photographer: Eric Kinney – www.erickinneyphotography.com – IG: @ekinneymedia
Wedding Gowns: "Blysse" & "Brielle" by Yong Lin Bridal – www.yonglinbridal.com – IG: @yonlinbridal
Hair & Makeup Artistry: Adela Hittell – IG: @adelahjax
Custom Flower Wall by Iris Ruz – IG: @iris_secret_garden
For all of my fellow colleagues that work in the spotlight, I want to encourage you not to adopt the "stand and smile" mentality.  Our job is to be what every unique client wants, but not to the point we are no longer ourselves. I challenge you to make every role, shot, and pose personal to you. The part you play in image production is far more complex than simply looking nice.  Understand that for the moments the cameras are clicking you are selling a fantasy.  Whether the shoot is for portrait or commercial purposes, you must make your viewers believe the scene they see.  The best way to do this is to believe it yourself – or better yet, make it somewhat real. Never be afraid to try what comes naturally.  Never hesitate to ask questions if you feel your vision of the project is unclear.  Most importantly, understand the power of working with your photographer.
Until next time,
Ashley BeLoat
Print | Runway | Short Film
www.facebook.com/Ashley.BeLoat.images
Instagram: @ashleybeloat