The Agency Submission Photo Formula
The Agency Submission Photo Formula
Recently I've received many messages from models asking me how to get signed and graduate from "amateur" to "agency." This question often leaves many girls — and young men — scratching their heads as they work to achieve this next step in their career. I want to address an aspect of the matter that is pertinent to photographers as well, so today's article will be exclusively on submission photos. At the end of this page you should have a nice little blueprint of all details – what to wear, how to pose, where to take the photos, etc. Photographers, take notes so you know how to direct your models that are seeking submission photos. Models, let's get you signed!
Know the Agency Preferences
Every agency will have a certain market their brands cater to. Try to gear your submissions towards the agencies and brands that seem the best fits for your own features. Does one agency provide talent for mainly swimwear, activewear, and sports ads? This will be an excellent fit if you are athletic and fit. Does another agency typically provide bookings for editorial work? They will probably be on the hunt for defined features, slim figures, and faces that can pull off out-of-the-box concepts. Know what markets you serve best, select the proper agencies to submit to, and try to subtly showcase the features they seek in your submission photos.
Natural Is Best
Companies want to know what they are hiring. Stay away from images that appear heavily-edited and refrain from caking on the glamour makeup. I once read on an agency submission page; "When in doubt think passport photo, not photoshoot." This Is quite the perfect description because most agencies I have researched request photos with very minimal makeup and hair pulled neatly away from the face. This allows the agency to see your features clearly and gives the highly-attractive impression you have nothing to hide. It's alright to submit a couple images that are more high-fashion or styled to show off your versatility, but make sure to not neglect the core basic photos.
Yes, it is perfectly permissible to wear makeup and have your photos edited… The key is doing so in the right way. I advise wearing a light BB cream to even the skin tone and add a luminous glow. Make sure to apply lotion to your body as well. Keep everything else to a strict minimum, sticking with neutrals, earth-tones, and hues that do not stray too far from your natural skin tone.
Setting Up the Shot
It's crucial to understand the goals of final images before the shoot begins. This will allow you to plan accordingly and set everything up for success. As previously mentioned, a good submission photo enhances a model's natural features and beauty. Now let's cover a few specifics that make an exceptional final photo before the camera even clicks.
Background is always important. The model should be in an environment that is not visually distracting – he/she should be the most notable thing in the photo. When in doubt, stick with a classic and plain white wall. This will reflect every bit of light and automatically make the photos subconsciously appeal to the agency. If an indoor studio space is unobtainable, outdoor photos can be acceptable as well. Just remember the goal of simplicity and search for something visually uniform. A brick wall would be an option to consider here.
Bathe your model in the appropriate light. You want the images to exude a bright and clean feeling as opposed to dark and mysterious. Again, this appeals to the overall perception of honest representation. Opt for a soft, flattering light that works well with the model's skin tone. Avoid lights that leave the model appearing too overexposed with indistinguishable features. If you are shooting indoors and have the option to manipulate the light, work with your model to capture the desired angles with strategically placed highlights and shadows. Always ensure the model's face is towards the light, and do everything possible to minimize shadows in the eyes. The eyes are often what give that automatic connection. Light them up.
Capture a variety of headshots and full-body for final selection. I'm sure that my previous remark about "passport photos" vs. "photoshoot" left some people scratching their heads, but this is where the advice becomes helpful… Make sure you capture the model from straight-on as well as both profiles. The poses should be simplistic, with good posture and structure the main focus.
Wardrobe should often be simplistic, neutral, and clean. Much like the background, we want to avoid distracting the viewer from the model's features with loud colors or patterns. It is best to choose things that are fitted and provide an accurate representation of the model's physical frame. Often, an agency will suggest submissions with a simple white tank top and jeans. Sometimes there are also requests for shots in swimwear, but do these tastefully at your own discretion. Many self-proclaimed agencies have questionable legitimacy, so be careful who you entrust with what images. Once again, choose solid neutral colors, black, white, and/or earth-tones that appear flattering with the model's skin tone. If he/she has warm undertones, gravitate to warmer choices. If they have cooler tones, adjust accordingly.
Finishing Touches
The purpose of post-production editing should be done with a similar goal in mind. Photographers need to remember the goal of "honestly enhancing" the model's features. It's okay to make alterations on temporary flaws such as blemishes, misplaced shadows, and enlarged pores. It also is a good idea to subtly dodge and burn to enhance your model's healthy glow. However, refrain from doing anything that changes any permanent features. If the agency gives your model a call-back, there should be no shock or confusion because of anatomical shapeshifting in postproduction.
(For anyone wondering what it means to "dodge and burn," that is simply the process of strategically emphasizing shadows and highlights in the photo. If you would like a tutorial on how to do this, leave a comment below and perhaps Hanna will post a future tutorial for you on his youtube channel www.youtube.com/c/hrimages.)
So there we have it! This completes my list of secrets to achieve the perfect submission photos. Models, have you been signed with an agency? If so, what were the photos that got you signed? Photographers, do you work in partnership with agencies? If so, what do they request and prefer in a final image? Leave all your comments below!
Here are my own photos and comp cards that got me my first agency contract. These images and comp card compilations are courtesy of photographer Red Scott. Find him at www.redscottphotography.com and on Instagram @redscottphoto.

Model: Ashley BeLoat
Photographer: Red Scott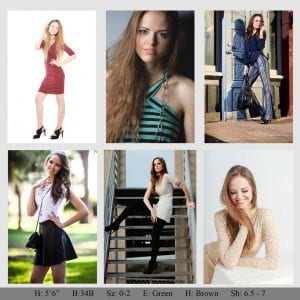 Photographers (Top) Left-Right: Red Scott, John Carlton, and Rajibul Saikat
Photographers (Bottom) Left-Right: Stew Blaquiere, Yomaira Ruiz, and Michelle Hartman
Overall Comp Card Compilation: Red Scott
Until next week,
Ashley BeLoat
Instagram: @ashleybeloat
Professional Page: https://www.facebook.com/Ashley.BeLoat.images/