By Ashley BeLoat

Hello everyone! Welcome to my section of The Art of Portrait Photography. My name is Ashley and I have never once taken a photo that gives me the right to call myself a photographer. My place is in front of the camera. I am the object photographers take pictures of, the "model" so to speak. I am the canvas for the wedding dress, the expression that communicates an emotion, and the body that must tell a story with its pose.
  Nice to meet you.
  My goal is to answer questions and start discussions that are pertinent to models and photographers alike. The Art of Portrait Photography requires participation from both parties to create a truly stunning image. My hope is that this section of our website will help other models develop their craft while offering perspective to photographers, confessing what it is like on the other side of the lens.
  Modeling is truly an art form that – like photography – has the power to be a creative journey. We have the power to set the tone of the overall image with our body language, eyes, and persona. But with every journey comes a starting point. Everyone must begin somewhere, and sometimes those beginnings reveal many opportunities for improvement. I remember this stage for me…
  I was incredibly spoiled. My first photographer ever was incredibly talented and to this day still captures some of my best images. But in the beginning? I was no model. Not even close. Want to know why? I will show you.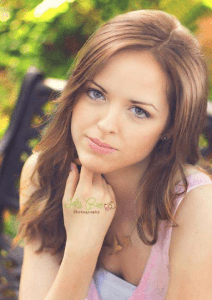 That was my first photoshoot ever. The fear is blatantly plastered all across my face. My soft smile is obviously forced and the eyes are dull. I was shaking so terribly, and my heart was beating faster with every click of the camera. What was I doing?
  Then the photographer sent me the images. I was amazed at the way she viewed me through her camera. It was a perspective I had never once had of myself. It was then I decided I would learn to become better. I would conquer this place in front of the camera.
  I soon learned the potential a model has to set the scene. The stories he/she can tell by interacting with or ignoring the camera. A pretty picture was no longer enough for me – I wanted to make people feel something with my photos.
  I began researching strategies that would help me reach this goal. I began studying posing strategies, looking up makeup tutorials, quizzing other models who had "made it" with agencies and runways. It became a bit of an obsession for me, I must confess. But without all of this work to learn and improve, I could never have participated in pieces like these…

Three years later I now have hundreds of photos, have had the honor of posing for nearly 50 photographers, been the canvas of numerous talented hair/makeup artists, and been the proud display of several designers' creations. Never would any of this have happened if I had not constantly pushed myself to imrpove. It's an honor to now share this quest with other models around the world! Join me as we work to perfect the art of portraiture – from our side of the lens.
Until next week,
Ashley BeLoat