Featured Photographer – Anna Giannina Cicone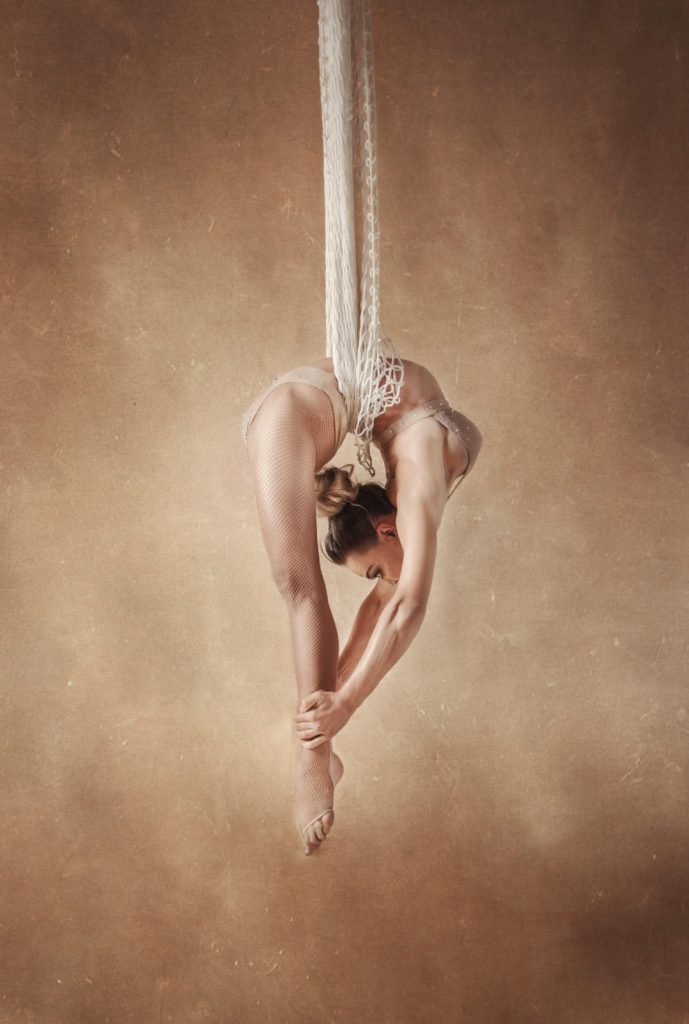 1. Tell us a bit about the image?
This image is of my dear friend Lena, a talented contortionist and aerialist. Lena and I have worked together numerous times over the past few years, since the start of my professional photography journey and her contortion one, each of us growing and evolving in our skillsets with each shoot. Lena celebrated her 42nd birthday just a few months ago and, having begun her contortion training in her 30s, is an inspiration to many of us in the circus community. This image showcases the incredible breadth of ability the human body has with proper training, dedication and resilience. With each portrait taken during this shoot, Lena would set a flexibility goal for herself (i.e. pulling the back of her leg to head, or hair to tush), and each time she nailed it. This shot spanned the course of about 2-3 minutes (quite a long time to be in the pose), with Lena pulling her legs closer and closer to her head, little by little. This is the pinnacle of that incredibly difficult process.
2. What inspired you to take the shot?
This is a position we had in mind going into the shoot. I love the teardrop shape, and the profile angle creates quite an impact on the viewer.
3. What gear did you use for the shot including lighting?
My camera is an Canon EOS R. My key light is a Paul C Buff strobe placed camera left, and a continuous fill light placed camera right.
4. Tell us about the editing process?
I used a variety of techniques in Camera Raw and Photoshop, some self-taught and many learned by the amazing Barbara Macferrin. They include incorporating textures and using the dodge and burn technique to name a couple. My goal with the gold color was to make the whole aesthetic appear soft and ethereal.
5. How does this piece reflect you as an artist?
I am an aerialist, and I specialize in fine art portraiture of circus artists in my community. For the subject, these shoots are incredibly challenging as they require an artist to hold uncomfortable or difficult positions for a prolonged period of time. My goal with each shoot is to find a moment in there where the artist is pushing themselves to the best of their ability while still maintaining a semblances of serenity. I want the photograph to appear as though the subject doesn't even know I'm there. I think this piece showcases all of the above, while also signifying a new direction that I'm thrilled to explore further.
https://www.instagram.com/barbaramacferrin/
https://www.instagram.com/lena_fumi/
www.instagram.com/annaciconephotography