Featured photographer – Paul Tran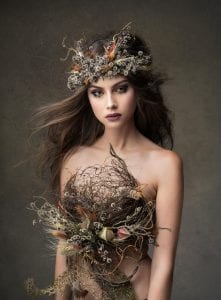 The Autumn Sisters
Question
Tell us about the image
Answer
The image was created from a concept that I had.  At the time I was exploring imagery involving textures and I came up with a concept, the Spring and Autumn Sisters.  The image I wanted to create was of two Forest Spirits, sisters but opposites.  Amber is Autumn and her sister, Lace who is blonde and blue eyed, is Spring.  I wanted to portray them as ethereal, almost alien beauties, a little step away from our reality.
Question
What Inspired you to take the shot
Answer
It was a shot I crafted from an image in my mind.  I put together a wonderful team of artists who shared the vision and we all love the imagery that we created.
Question
What Equipment did you use?
Answer
I shoot with a Sony a7rii and was using my favourite lens, my Sony 85mm f/1.4 GM which stays on my camera 98% of the time.
Lighting based on two Godox AD600BM strobes.  One was attached to a 60" octobox above and left and the second one below and left on a 32".  I positioned Amber a few meters away from the white wall on the left, just enough for the slightest bit of kick back….. I love shadows!
EXIF:  f/13 at 1/250th and ISO 100
Question
Tell us about the editing process?
Answer
my workflow involves balancing light and colours in Lightroom. I then move on to Photoshop to retouch. This involves frequency separation for skin smoothing and dodging and burning where appropriate. This image was shot in studio against a white background so I added a textured background also in Photoshop as the finishing touch
Question
How does this piece reflect you as an artist?
Answer
This piece says a lot of what I aim to express.  As the question suggests, I aim to create art.  An image that isn't just about a beautiful person, but creates a story and emotions, not just in the setting and props but also in the models eyes.  I want to challenge, so that the viewer wonders what is happening in the scene, and also, separately, what is happening in the models mind, what is she thinking or feeling.  I love this image.
Follow Paul on Instagram @emaginephotographie